Vijay Shah
This Sunday's picture comes from the Twitter photo album of an account by a Kuwaiti known simply as Rahal (@7madms). The account usually tweets sayings in the Arabic language and additionally offers advertising aimed at Rahal's 2.5 million followers.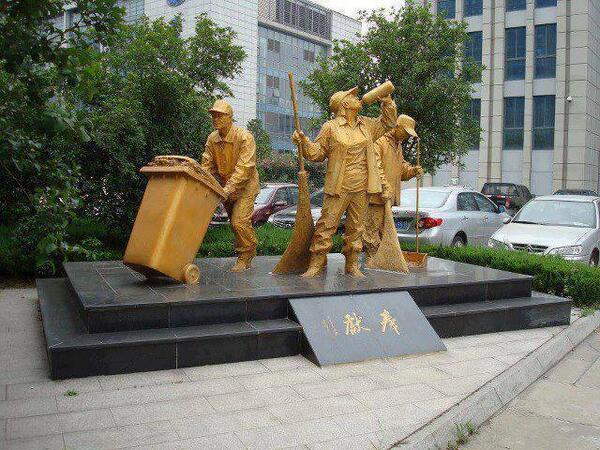 The statue, which appears to be brass, but may have been painted gold to give that effect, pays homage to the street sweepers and sanitary workers of the People's Republic of China. It has long been a tradition in nations with Communist governments to erect statues and monuments honouring the working classes and key political figures. The political ideology revolves centrally around the emancipation and constant productivity of the worker, particularly their vital role in keeping communist societies running smoothly.
The monument features two street cleaners with traditional grass brooms hard at work. One is taking a short break to get some badly-needed nourishment. The man to the left is pushing along a wheelie bin filled to the brim with household waste. It is located near government buildings in Changzhou and was intended as a thank-you gift for the local sanitary workers' hard work in keeping the streets of the city hygienic. Changzhou is a prefecture-level city in Jiangsu province, in the south of the country.
RELATED ARTICLES from Zemanta
Related articles
IMAGE CREDIT:
رحال (Rahal) on Twitter 

LINK
SOURCES:
مديرية بلديات محافظة نينوى (Nineveh Province Municipalities Directorate) on Facebook 

LINK
Vijay Shah { विजय } on Twitter

LINK