Sportswear manufacturer and leading athletic designer brand Nike have launched the newest addition to their extensive trainer (sneaker) range this weekend, as mentioned on the official Nike Twitter account. The LeBron 11 'Graffiti' shoe, part of Nike's renowned basketball shoe collection aimed at younger buyers, carries a distinctive long tongue. It is inlaid with red cushioned fabric for maximum comfort, and emblazoned with a design in black and white that combines jagged edges and flourishing lines. The pattern pays homage to the urban traditions of American street art – a visual philosophy which have been intertwined with the roots of basketball since the 1980s. The famous Nike tick – the 'swoosh' is incorporated into the design in an off-metallic red. The shoe makes dedicated usage of Nike's patented Hyperposite construction. This special footwear technology combines PU based foam material, performance synthetics and mesh to create an extremely durable, lightweight and breathable upper, according to Nike's promotional site for the 11 series.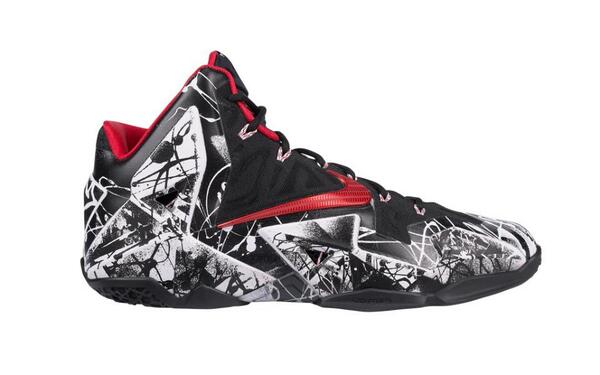 The shoe also is fitted with Nike's patented air cushion technology for greater comfort and is an ideal buy for active kids, and comes in at a much cheaper price than other products in Nike's catalogue. The graffiti design has been a mainstay of Nike's LeBron collection for several years and has made its return for this new reincarnation. The design is based on the "White/University Red-Black" of Miami University. The 'colorway' as it is referred to by American trainer fans and collectors, has been well received in some quarters with many complimenting the 'Graffiti' look as remaining true to the traditional LeBron series format.
This collection is the result of a partnership between Nike and professional basketball player LeBron James, otherwise known on the pitch as 'King James'. Currently playing for the Miami Heat team, James has won two NBA championships, four NBA Most Valuable Player Awards, two NBA Finals MVP Awards, two Olympic gold medals, an NBA scoring title, and an NBA Rookie of the Year Award. He has also been selected to ten NBA All-Star teams, nine All-NBA teams, and five All-Defensive teams, and is the Cleveland Cavaliers' all-time leading scorer, before his current career in Florida. James has also been ranked by Forbes as one of the world's most influential athletes throughout his career. Like many professional-level sportspeople, James has numerous lucrative contracts with major firms. In addition to Nike, he also maintains sponsorships with Coca-Cola, McDonalds and Samsung.
James signed his contract with Nike ten years ago at the tender age of 18, and collector's magazine Nice Kicks retrospectively dubbed him Nike's new shining 'crown prince'. LeBron's contract was valued then at $93 million, and in which he would work with Nike on releasing a range of sportswear, ranging from shoes to hoodies, named in honour of the Akron, Ohio-born superstar. Since then, James has renewed his original seven-year partnership at a tune of $15 million per year.
The LeBron 11 is available on Nike's US online store with different size and design formats for toddlers, pre-schoolers and older children. The older child's variant costs $140, the pre-school version is retailing for $70, while an infant-friendly pair is available for $50. At this moment the shoes are only available to U.S. customers both at Nike stores and other high street retailers. It is not yet known if and when they will be put on sale in British stores. The other trainers in the range are already stocked in the United Kingdom.
EDITORS NOTE: Nike or their affiliates did not sponsor or participate in the production of this article. This was a random subject selected from the author's Twitter account.
SOURCES:
Vijay Shah { विजय } on Twitter

LINK
Nike.com on Twitter

LINK
"LEBRON 11 HOME" – SHOP NIKE+, Nike, Inc.

LINK
"Nike LeBron 11 'Graffiti' (KICKS)" – SLAM, Source Interlink Magazines, LLC (23 January 2014) 

LINK
"LeBron James" – Wikipedia/Wikimedia Foundation, Inc.

LINK
"THIS DAY IN SNEAKER HISTORY: LEBRON SIGNS RECORD-SETTING DEAL WITH NIKE" –  Ian Stonebrook, Nice Kicks

LINK
SHOP NIKE+, Nike, Inc.

LINK
IMAGE CREDIT:
Nike.com on Twitter 

LINK
Related articles