with Alex Smithson (contributor)
My friend and fellow blogger Alex Smithson, the awesome talent behind the blog "Mother Nature" has asked me to produce this special article promoting his upcoming e-book entitled "A Year in Photography", which charts Alex's budding career as a photographer chronicling the wildlife and scenery of south London and beyond. 
The title was originally pencilled in for release this month, but was delayed following the untimely death of mutual friend and photographer/blogger maestro Ajay Mody, who passed away after an illness on the 10th August. Production delays and necessary improvements were also a factor, as well as exam revision, which Alex passed with flying colours. A Year in Photography is now scheduled for release on the 1st September 2014.
This will be Alex's second published work detailing his budding photography career. In January of this year, he announced the first in the series, called "My Journey Through Photography" which he made available via Dropbox on his blog, completely free of charge. In this publication, Alex charted the best and worst parts of that journey, including excursions he made to nearby Kelsey Park and Battersea as part of photo projects he self-undertook.
At the moment, Alex is keeping the exact content and photos he will be using firmly under wraps, but he has kindly tweeted exclusively to the Half-Eaten Mind an image depicting the earlier and final cover designs that the e-book will carry.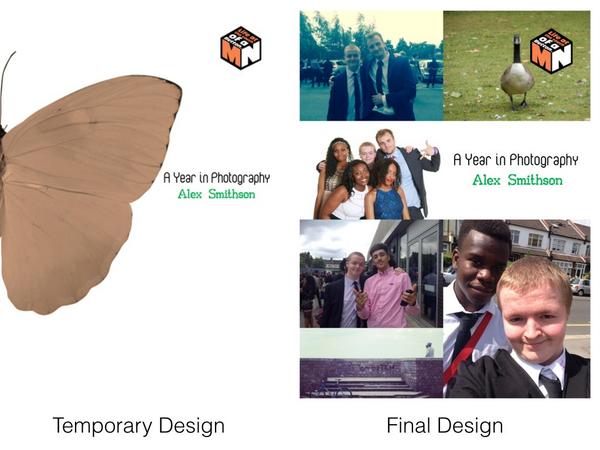 The final cover depicts key moments from both Alex's blog and his schooldays, which have recently come to end as he prepares himself for taking a course in photography at a local sixth-form college. Carrying the distinctive cuboid Mother Nature logo, the cover shows various snapshots of Alex colourfully and happily posing with school friends complemented with a striking image of a Canada goose, a commonplace migratory fowl in British parks and open spaces. The goose also has pride of place as the Gravatar icon Alex uses when he communicates with others in the blogging community. Alex's original book design features the right wing of a butterfly, celebrating the admiration of nature's beauty which has been a significant theme in his photography from the earliest days.
To celebrate the forthcoming release of Alex's e-book "A Year of Photography" for free download on September the 1st, the Half-Eaten Mind has selected its personal favourites from the dozens of photos Alex has released worldwide since he began blogging in June 2013.
All photographs copyright of Alex Smithson and the Mother Nature blog.
SOURCES:
IMAGE CREDITS:
Related articles