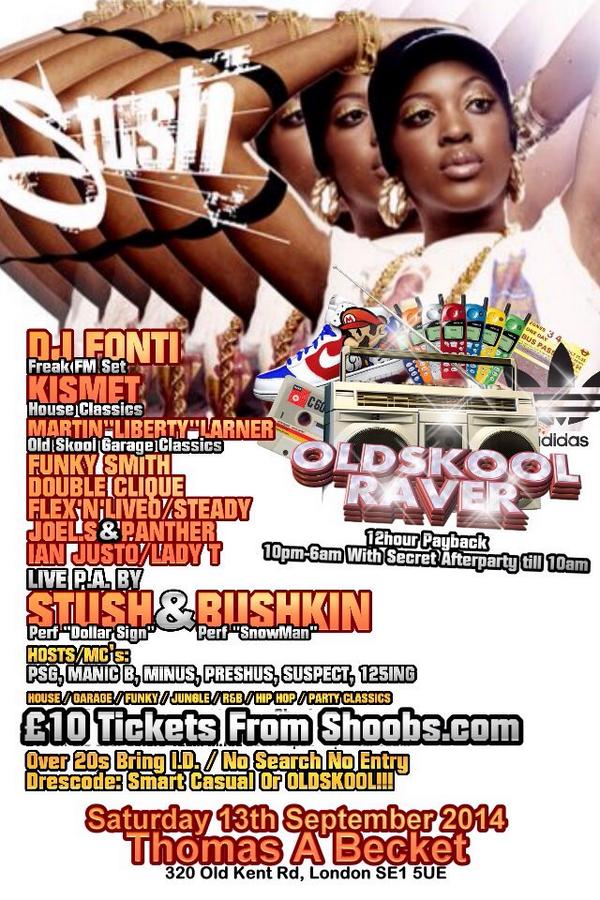 A Photoshop designed poster for a 'old school' music event being held in south-east London. The capital city of the United Kingdom is home to a varied and exciting musical scene encompassing many niches, tastes and cultures. Nightclub events such as 'Old Skool Raver' are particularly popular among the city's younger music lovers, drawn by the banging beats, relatively cheap alcohol and experiences of fun. These events are highly publicised via brightly coloured flyers and posters which have become works of art in their own right, even though mainstream designers and the modern art world may generally regard such ephemera generally as promotional tat. Some music posters for famous bands and events such as Live Aid (1985), the Woodstock festival and early illegal warehouse raves in the late Eighties are now prized collectors' items fetching sometimes hundreds of pounds on auction sites.
Different 'club nights', as they are usually known as in the industry, will often have performances and artistes from particular musical genres. The most popular in terms of ticket sales are pop, garage, R&B, reggae, dancehall, bashment and house music. Many ravers nostalgic for their younger partying days will find that London in particular caters well with its many 'old school' nights showcasing memorable hits from the 80s, 90s and 2000s.
The poster above features the obligatory line-up of acts scheduled for the night, and graphics reminiscent of what truly defined an early 1990's raver. Also shown is the singer Stush, the 'First Lady of British Dancehall', who has been active in the local underground music scene since 2002. Her music has been featured in the tough inner city life film Adulthood.
ADDITIONAL SOURCE:
IMAGE CREDITS:
Related articles