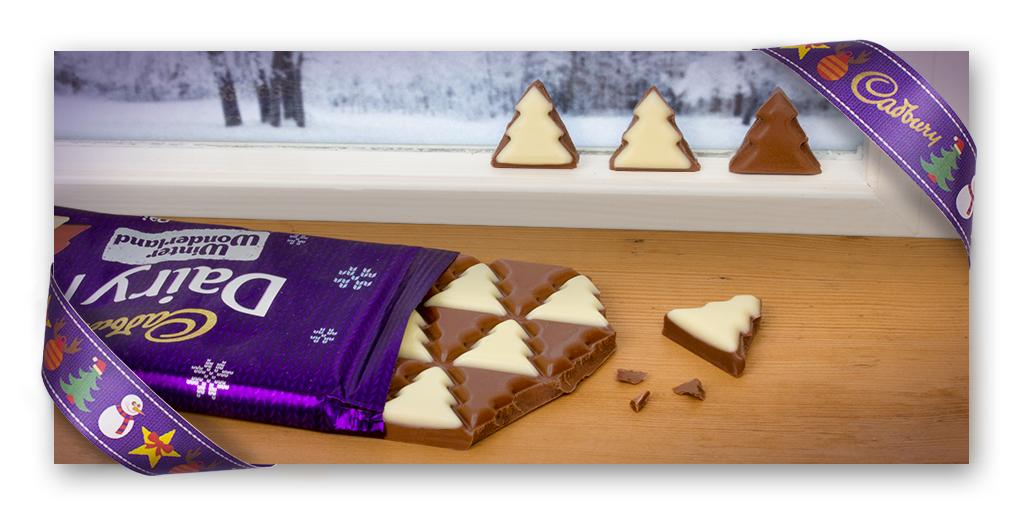 Nothing says "Merry Christmas" like a big chunky bar of chocolate. If it's festive chocolate, even better. One thing I can tell you about retailers in Britain is that they are so passionate about Christmas that they start bringing out festive themed goodies a good few months in advance. In fact the receptionist at my workplace was even telling me how some shops have already started playing Yuletide carols…and this was on Hallowe'en!!
Chocolate maker Cadbury's, home of the recently revived Wispa bar, among other niceties, has brought out a new chocolate bar that will join their family-sized Dairy Milk collection for the season of goodwill. The latest slabs of cocoa goodness are called 'Winter Wonderland'. Instead of the normal square pieces that you can break off and pamper yourself with, this new sweet thang has little Christmas trees instead, alternating between milk chocolate entirely and more yummy milk chocolate topped with white chocolate. Perhaps the inclusion of white chocolate was to steal a march on Nestle and its Milky Bars in the competitive run-up to the big festive season. Maybe they felt a bit bad and Scrooge-like after recently announcing they would no longer make chocolate coins, a Christmas staple, just two months before the big twenty-fifth. Maybe they love snow. But I think Cadbury's might be on to something here. I have certainly never seen anything like this before, and rum and raisins is not only unpalatable, but it's getting somewhat antiquated too.
The Winter Wonderland bar looks both appetising and festive. I can imagine little kids (and big kids at heart) itching like they're sitting on pine needles to chomp down on some cute and irresistable Christmas trees straight after the roast turkey and trimmings. It's also a good way of sharing out the festive cheer when you've got family coming round.
I have a notorious weakness for chocolate. I mean only yesterday I was up at 12.30 in the morning, spooning out and devouring the remains of a Nutella jar at the back of the cupboard that I had almost completely forgotten about. Thank goodness none of my housemates saw me *piercing scream*. Trust me, I had the munchies and chocolate always hits the spot. Which is why I now have extra weight I need to get rid off. Snacking is a sin against the waistline, people. Just say no.
But come Christmas, even if you are constantly on the hunt for the next 'revolutionary' diet, you can forgive yourself for hiding the Atkins or Paleo guidebook behind the sofa and allowing yourself the guilty pleasure of deforesting a big bar of Cadbury's Winter Wonderland chocolate trees. Even if it turns out to be the middle of April and there's no-one at home to share with *sly wink*. Mum's the word.
As Cadbury's would put it "Who says chocolate doesn't grow on trees?"
DISCLAIMER: I like all kinds of chocolate, not just Cadbury's. Reese's Peanut Butter cups and Fry's Peppermint Cream often feature on my chocolate hitlists.
SOURCE:
IMAGE CREDIT:
Related articles