While falling snow may be a given in the parts of the world furthest from the Equator, a very unlikely place has just experienced its rarest of weather phenomena: crisp, soft, white snowflakes. A report from The Daily Star newspaper in the Mediterranean country of Lebanon has reported that the north of the country, including around the city of Tripoli, has played host to drifts of snow. Several coastal towns and villages have reported snowfall today (Friday 21 November 2014) as they brace themselves for an upcoming weekend storm. The area normally experiences much warmer temperatures of between 25-45 degrees Celsius.
The first reports of Lebanese snow came in from the region of Chekka this morning, where snow brought in by bad weather preceding the storm forced locals to stay in their cars. Other drivers caught out in the surprise snowfall sought refuge in a road tunnel to wait out the snow and accompanying storm. In the village of Nakhla, snow came down in droves, blanketing residents' houses as they moved belongings inside in preparation for the arrival of the storm, which meteorologists have named Misha.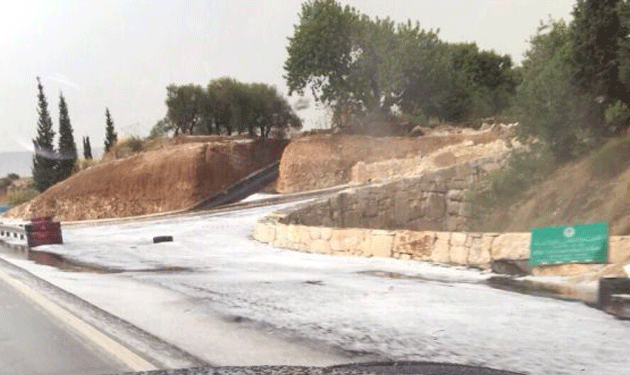 The regional main city of Tripoli was next to be hit by snow, where a combination of lighter flurries mixed with hail peppered the streets of the town of around 1.1 million people. The Meteorological Department at the Rafik Hariri International Airport, which is concerned about the potnetial impact of the snowfall on Lebanon's aviation industry, has said that highland areas above the altitude of 1,700 metres above sea level will get the heaviest of the fall. Meanwhile, Lebanon's Civil Defence Authority has warned Lebanese to be careful when travelling via road and ideally to not travel by vehicle at all during the next two days once Misha touches down. Teams of volunteers are being placed on standby to help motorists and householders caught out by the unusual conditions.
Temperatures in coastal Lebanon are predicted to plummet to around 11*C, including in capital Beirut and fall down to freezing (0*C) in mountainous parts of northern Lebanon, with storm Misha expected to substantially weaken from Sunday onwards. Last weekend, Lebanon was inundated with precipitation of another kind when heavy rains caused widespread flooding in many built-up areas, including a tunnel near Beirut's main airport which is used by thousands of motorists every day. Many drivers were forced to remain in their cars for several areas, causing gridlock for travellers and locals battling through the torrents.
Lebanon is not the only Mediterranean country to have witnessed uncharacteristic openings of the heavens. In March 2010, blizzards and heavy snow wreaked havoc on the French Mediterranean coast, and twenty inches of snow was measured in northern Spain. In December 2013, the normally dry desert country of Egypt saw its first snowfall in a century, carpeting the Great Pyramids of Giza and the deserts around Cairo in white. The city's residents were said to have been spellbound by the falling flakes, with many children building their first ever snowmen, as the city normally only gets an inch of rain per year. Heavy snowfall was also reported from Algeria, Israel and Syria at the same time.
SOURCES:
IMAGE CREDITS:
Related articles