If you have ever wondered what made the minds of the world's most intelligent people tick, and what really goes on underneath of the bonnets of famous geniuses such as Albert Einstein and Stephen Hawking, a new online conference will aim to help you unravel the mysteries of superintelligence this November. The new conference, which will come with a unique 'brain training library' will also enable people to tap into their own hidden geniuses and steal the march on the science boffin that scored all the high grades back in school.
The Brain Matters 2015 conference, staged in the United States but held internationally via the net, will help attendees explore the inner workings of the mind and how neuroscience can explain the way we think, theorise and understand our worlds. It is being held in honour of the 100th anniversary of the General Theory of Relativity, formulated by accomplished scientist Albert Einstein.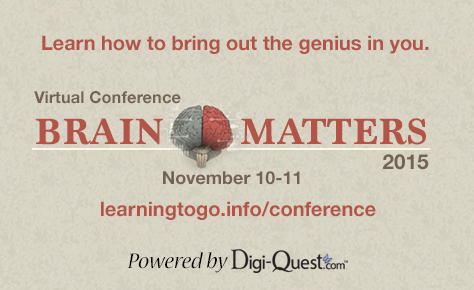 Brain Matters will help explore the nature of genius through the lens of neuroscience. It will also answer pertinent questions such as whether there is anything unique about the brains of geniuses, and how people can train their brains to acquire this special status of genius. Attendees will come away from the conference with a better understanding of how their own brain works and armed with practical tips on how to unleash your brain's hidden potential, especially noteworthy considering that we are said to use only 10 per cent of our entire brainpower.
The Brain Matters 2015 conference will be run in the form of an interactive webinar which promises to go beyond the PC screen and immerse attendees in a full-on 'virtual experience', organisers say. People who sign on to the webinar conference will be able to post questions and comments, watch videos, collaborate on a scientific whiteboard and join in the Brain Matters discussions via Twitter. Alongside the conference itself, there will also be an informative lounge set up for attendees to relax, network and casually browse the related online bookstore. There will also be a sideline Virtual Expo, offering the chance to interact with event speakers and learn more about their products and services.
Speakers at Brain Matters will include Marshall Goldsmith, an inspirational thought leader and executive coach, who has recently published the mind-training bestseller "Triggers: Creating Behavior That Lasts–Becoming the Person You Want to Be. As keynote speaker, Goldsmith will be joined by Trudi Baldwin (Drake), a learning, performance and organisational effectiveness manager with several top US companies; Jay Cross, a pioneer of e-learning; Dr. Laura Beavin Haider, research and development manager at the Ipsos Neuro and Behavioral Science Center in Culver City, California and Donna Pangburn, educational consultant and president of Time to Teach, among many other speakers from the worlds of neuroscience, thinking and learning.
The Brain Matters conference and associated events are being organised by LearningToGo in association with Digi-Quest.com, a mind empowerment and training organisation. Registrations are currently being taken at this link and tickets cost only USD $147 (GBP £95.28), excluding booking fees, and there are a limited batch of 500 tickets left. The event runs from 9:00 am (United States MST) on Tuesday, November 10, 2015 to 12:00 pm on Wednesday, November 11.
SOURCES:
IMAGE CREDIT:
Related articles