Birmingham – VIJAY SHAH
People in the world of healthcare technology are eagerly awaiting the arrival of ehi LIVE 2017 in just two day's time, as the UK's leading get-together for experts and users of digital healthcare gets ready at Hall 1 of the NEC Arena in Birmingham on the 31st October and 1st November 2017.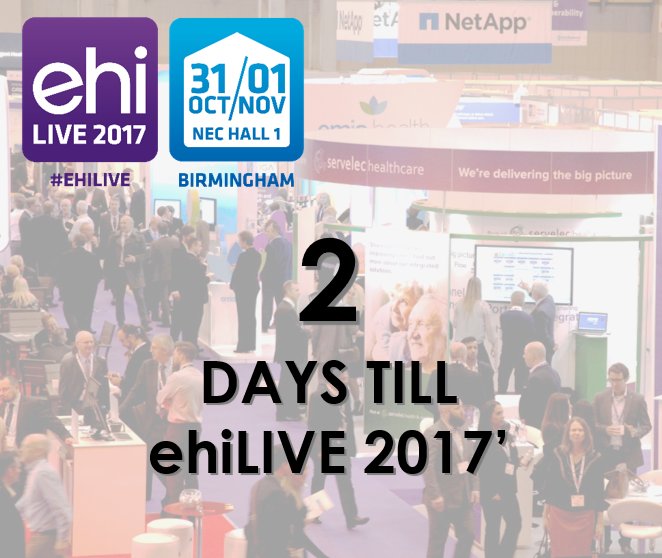 ehi LIVE, an event which aims to bridge the gap between medical technology, clinicians and their patients, is a yearly occurrence and is organised by international exhibitions agency Informa Life Sciences Exhibitions. ehi LIVE will look at key developments in the digital healthcare field, such as hospital record keeping, cybersecurity, healthcare innovations and new methods of bringing technology into patient-doctor interactions. The event also plays host to a special 'Knowledge Hub' which features experts in the fields of digital health and cyber security, offering their thoughts on the latest developments and concepts such as the cloud, wearables, informatics, 'big data' and social media, and how these can benefit patients, doctors, nurses and healthcare providers such as the NHS.
ehi LIVE will host nine individual conferences within the event, alongside an exhibition with a lineup of 150 companies and providers in healthcare. An expected total of more than 4,000 attendees are expected to visit the event over the two days. There will also be a late night drinks bash and an awards ceremony.
Key speakers taking the stand at ehi LIVE 2017 include Will Smart, the chief information officer of NHS England; Claire Murdoch, the National Mental Health Director, also from the English NHS, alongside their colleague Dr. Robert Varnam, head of general practice development. Also speaking will be Prof. Daniel Ray (data director and informatics professor at NHS Digital in Leeds) and Paul Park, a CCIO at Oxfordshire CCG. Exhibitors include Elsevier, Fujifilm, Hospedia, HP, IBM Watson Health and LG Electronics, among many others in household names and new entrants in the digital healthcare field.
DISCLAIMER: The author of this article is employed by Informa.
SOURCES:
"Informa Accounts" – HEM News Agency, Twitter, Twitter Inc. https://twitter.com/halfeatenmind/lists/informa-accounts
ehi Live 2017, Twitter, Twitter Inc. https://twitter.com/EHILive
"ehi LIVE, UK's largest ehealth exhibition 31Oct- 1Nov 2017, Birmingham" – ehi Live/Informa Life Sciences Exhibitions/Informa https://www.ehilive.co.uk/en/home.html
"EXHIBITOR LIST" – ehi Live/Informa Life Sciences Exhibitions/Informa https://www.ehilive.co.uk/en/exhibit/exhibitor-directory.html
IMAGE CREDIT:
ehi Live 2017, Twitter, Twitter Inc. https://twitter.com/EHILive